LG V10 Update Nougat Android 7.0 for LG V10 South Korea Version
LG V10 Update Nougat Android 7.0 for LG V10 Official South Korea
The LG V10 owner who is waiting for the Android Nougat update has the following good news: Updates are now officially available. Although it is currently limited to LG's home country in Korea, it can be obtained soon in other regions.
Upon arrival at software version v30d, the update will import Nougat version 7.0 and LG UX 5.0+. However, it is currently only available for carrier variants (F600L, F600K and F600S) and can be imported via the LG Bridge software. LG upcoming new flagship phone LG V30 Specs , Price, Release Date LG V30 2017 dual front selfie camera and a secondary display features with 6GB RAM coming in September 2017.
LG V10 Update Nougat Android 7.0 for LG V10
Android 7.0 NOUGAT
OS upgrades (UX 5.0+ version)
TAKE latest OS upgrades easier and
try a variety of functions.
UX5.0+ : LG V10, LG G5 , LG Stylus 2, LG G Pad III 8.0 FHD
OS android nougat update for lg v10 upgrades available items may differ depending on the model.
Phones> from the Download Center , download the 'LG Bridge (Bridge)' program, you can proceed with the upgrade.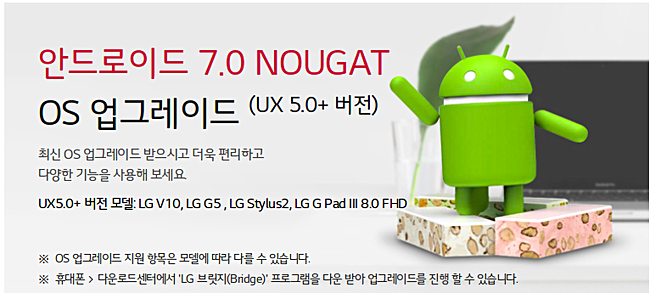 LG V10 Android 7.0 Nougat Update will be coming soon in USA ,UK and for India. Also Supports AT&T, T-Mobile, Canada ,Walmart , Verizon ,Sprint & other GSM based network. Samsung upcoming smartphone with 6GB RAM Snapdragon 835 Bixby AI assistant 6.4-inch panel samsung galaxy note 8 specs release date and price coming soon.
LG V10 Android 7.0 Nougat Features 2017
More conveniently made multi-window
Viewing the screen contents adjust to a comfortable size
wider dialogue box
become more convenient notifications
Easy Setup Check the status and setting recommendations
conveniently made number blocking feature
data save mode
new language settings
App data storage location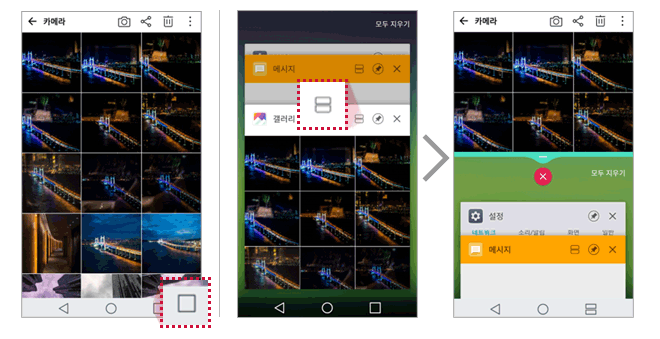 New features for LG V10 Update Nougat The multi-window feature has been added so that you can use at the same time on the screen, the two apps. The lg v10 update verizon has multi-window running, press and hold the recent apps button during use is. Press the button on the multi-window screen in recent history, or you can run the app and drag up.
Stock firmware is lg v10 update nougat also available for download from LG's official website. For more information, head to the Source link below.