LG G6 Price in Canada and Specifications
LG G6 Price in Canada and Specifications
LG has finally launched LG G6 flagship smartphone in Canada, The phone price CAD $999.99 which translates into around $745 in the US. 2-year term on contract for $199.99 Requires a minimum of 5 GB ($50/mo.) of data per account plus a minimum of $75/mo. per user and 2-year term on contract $399.99 Requires a minimum of 1 GB ($25/mo.) of data per account plus a minimum of $55/mo. per user.  The LG G6 H870 32GB (Factory Unlocked version smartphone is also available from Amazon US right now you can buy instant priced at US $732.45.
LG G6 Price in Canada and Specs
LG G6 Price in Canada Unlocked Version Full Price $999.99 in Canada those in Canada who purchase the handset before April 3 will get a free LG Sound Bar with Wireless Subwoofer. Order by April 3 and receive a complimentary LG sound bar and Bluetooth subwoofer (retail value: $279.99).
Specifications of LG G6
5.7″ Quad HD + FullVision (2880 x 1440) 18:9 Aspect Ratio w/ 564 ppi Display
13MP Dual Rear Cameras with sensors on wide & normal angles + 5MP Front Facing Camera
Sprint Exclusive: HPUE – extends Sprint's 2.5 GHz coverage providing broader data coverage for faster data speeds in more places.
Qualcomm MSM8996 Snapdragon 821
CPU Quad-core
4GB LPDDR4 RAM, 32GB / 64GB (UFS 2.0) internal memory, 2TB with microSD Support
IP68 Water and Dust Resistant
Google Assistant
Android 7.0 Nougat
Li-Po 3300 mAh battery with WPC&PMA wireless charging
Rear Key with Fingerprint Sensor
USB Type-C Charging Port with Qualcomm Quick Charge 3.0 – reversible design for easier plug-in; fast charging and data transfer.
Dolby Vision
Shock Resistant
Hi-Fi Audi Recorder – capture high-quality sound on the go with the ability to record over a separate audio track.
Andorid Beam- share contacts, web pages and more via Near Field Communication (NFC)
QuickMemo+: take notes with ability to choose paper style, pen size and color, add text with a PC-like tool bar and more.
Colors : Mystic white, astro black, ice platinum ,Grey
LG G6 Price in Canada LGH873 Best Buy Links Bell Canada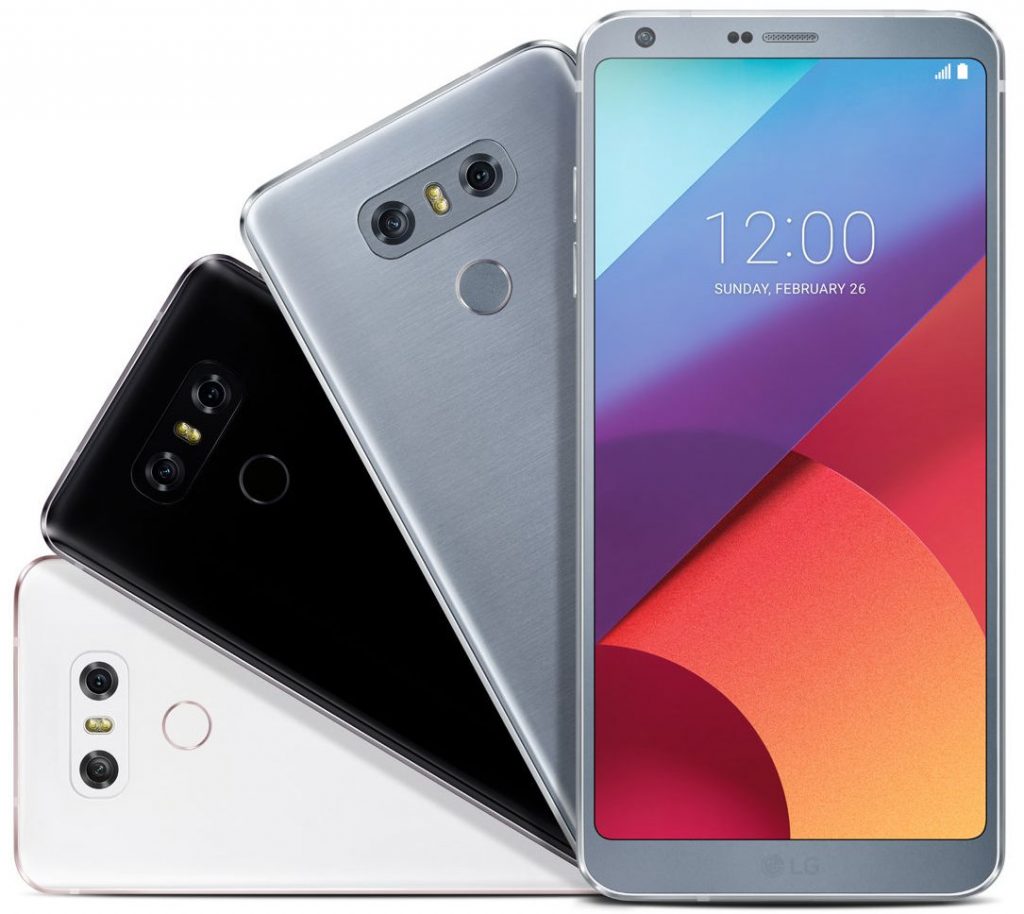 Versions: H870 (Europe); H871 (AT&T); H872 (T-Mobile); H873 (Canada); H870K (Australia); LS993 (Sprint); US997 (U.S. Cellular); VS998 (Verizon Wireless).
Also known as LG G6 unlocked Canada Dual LGH873 with dual-SIM card slots
LG G6 also available on AT&T ,T-Mobile ,Verizon, Sprint, U.S. Cellular buy on Contract.