Android 7.0 Nougat update schedule for Galaxy Note 5, Note 7, S6 edge, S7, HTC 10, One M9
Android 7.0 Nougat
Google has released Android 7.0 Nougat latest OS for the Samsung Galaxy Note 5, Note 7, S6 edge, S7, S7 Edge HTC 10 and HTC One M9 this new version released by T-Mobile has listed for few devices.
Android Nougat comes with several new features, like customization homescreen widgets, split screen, screen shot multitasking, expanded emojis and smarter battery usage via the Doze feature.
Android 7.0 Nougat update schedule for Galaxy Note 5, Note 7, S6 edge, S7, HTC 10, One M9 – Latest News Updates.
Experience Android in a new dimension
Vulkan API is a game changer with high-performance 3D graphics. On supported devices, see apps leap to life with sharper graphics and eye-candy effects.
Exp.Release 2016 ,September
Doze on the Go : Doze now helps save battery power even when you're on the move. So your device will still go into low power usage while you carry it in your pocket or purse.

Android 7.0 Nougat New Features:-
VR mode Android Nougat is ready to transport you to new worlds
Vulkan™ API game changer with high-performance 3D graphics.
Doze battery saver features
Split-screen mode
Data saver mode
Quick switch
Picture-in-picture mode: On Android TV,
Bundled notifications
Direct reply lets you quickly reply to a message
Notification controls
Customizable Quick Settings
Emoji Unicode 9 emoji: Bring your words to life with all-new emoji, including redesigned human emoji with
multiple skin tones.
Privacy & Security
Device setup & migration
Internationalization
New languages supported
Accessibility settings in setup
Android for Work
Android 7.0 Nougat inspired theme for CyanogenMod now available Download link: Nougat CM apk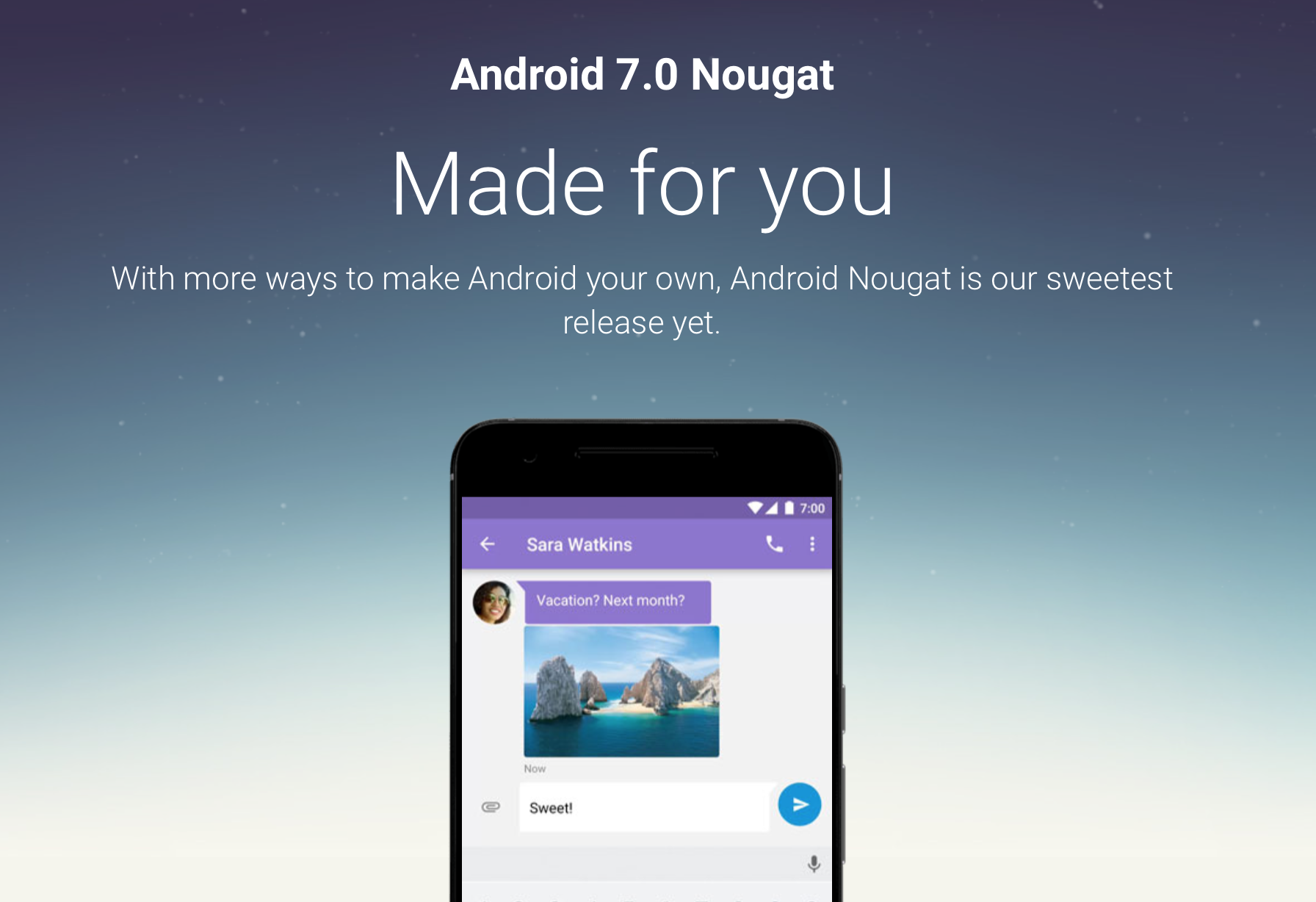 Official at Android Nougat 7.0
Android Nougat 7.0 makes it easier to take action in the moment, with more personalized settings, smarter notifications,Bundled Notifications and Custom Quick Settings.